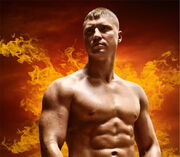 Michael is an Ifrit. Eternally young, he was not always humanoid.
General Information
Edit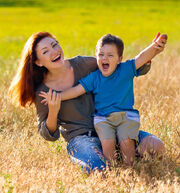 Michael is the leading man in the book
My Love Under Cover
. A half-breed, he is only part
Ifrit
, and part base fire elemental. As a result, he is much more powerful than either race--but he is also much more volatile.
Michael resides in Arizona, USA. However, in My Love Under Cover, he is in Maine to investigate on behalf of the Vampire High Monarch, Queen Nerianne.
Imperial Rank
Edit
Michael is the Emperor of the Ifriti Imperium. The Ifriti are few and are spread wide, and need little in the way of rules. Michael's role is more as a liason than as a ruler.
Michael works as a blacksmith, creating pieces for reenactments and for those who are willing to pay for old fashioned work. He also creates artistic metal statuary.
Michael is thought to be one of the eldest beings on the planet, but little is known about him beyond that. Due to the volatile nature of his talent, he has kept a low profile outside of caring for his people.