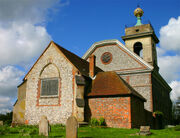 New Galatia is the werewolf village located within Waltham Park and Reserve.
General Information
Edit
New Galatia includes a pizza place, a church, a store, a gas station, and a few other amenities; all owned by local werewolves. It is a place where all Supernaturals are welcomed, and has an alert system for when unitiated humans are visiting.
Residents
Edit
Some residents of New Galatia include:
- Ivory Berrin
Ad blocker interference detected!
Wikia is a free-to-use site that makes money from advertising. We have a modified experience for viewers using ad blockers

Wikia is not accessible if you've made further modifications. Remove the custom ad blocker rule(s) and the page will load as expected.