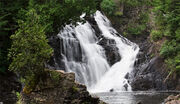 Ostensibly a privately owned wildlife preserve, Waltham Park is set aside for the various races of the Supernaturals. Like The Love Bite, Waltham Park is a property of Hippogriff Industries.
General Information
Edit
Waltham Park is owned by Tallis Sharpe's thrall. Contained amidst the sprawling, mountainous hills are New Galatia, The Love Bite, and many enclaves for various supernatural races. It has a strict 'no trespassing' code, enforced by humans and other races at all times.
Races With Enclaves in Waltham Park
Edit
Dryads
Gargoyles
Goblins
Trows
Spoiler Information
Edit
In A Wolf's Song, Desiree becomes a Forester in Waltham Park and Reserve.